Today, at the FASD in the UK conference in Salford, Manchester, the UK's first FASD Manifesto has been unveiled. The Manifesto was created with the direct input of more than 60 people with FASD, and is a guide for those who work with people with FASD.
It communicates, in the words of people with FASD, how they would like to be treated by others around them. The information was collected partly by the use of a survey, and partly by direct, creative input from people with FASD from across the UK.
The Manifesto is designed to act as a reference document for professionals working with people with FASD and other additional needs, who are often side-lined in their own care.
You can download your own copy using the button below.
Created with input from people with FASD
Check out this podcast featuring the voices of Dom, Rachel, and Jacob, three young adults with FASD, where they outline the UK FASD Manifesto project.
After this initial chat on 25 November 2022, we summarised the main points and then opened discussion up via Survey Monkey.
We received feedback from more than 60 others with FASD in the UK, which is quite a large number to participate in something like this. We then trialled the initial summary of the survey with the Hertfordshire FASD Club.
Finally, we put it all into the poster and animation you see above, that were also reviewed (and narrated) by people with FASD. Every word in the animation and poster came from people with FASD.
In a release to media, Sandra Butcher, National FASD's Chief Executive said, "At a time when mandatory training for autism and learning disabilities is being rolled out as a result of the Health and Care Act, and when the Department for Education has launched its new Special Educational Needs and Disabilities (SEND) and Alternative Provision (AP) Improvement Plan, we are pleased Government are taking some steps to meet the needs of some of society's most vulnerable."
"But they are limiting their impact and wasting funds by gatekeeping these services and schools only for those with autism and learning disabilities. This definition excludes other neurodevelopmental conditions and too often leaves out those with lifelong brain damage caused by alcohol-exposed pregnancies but who don't meet typical definitions of learning disabilities."
A group of young leaders with FASD is presenting the Manifesto at the conference. They are hoping to change the way society treats people with FASD.
A reference document for professionals
The manifesto calls on a wide range of professionals to "remember, just because you can't see our disability doesn't mean we don't have one" and to "understand why things are harder for us." It says, "We are sick of people saying they understand, or that they are trying to help, but they do nothing." A poster summarising the manifesto, intended for display throughout the NHS, features key themes such as, "listen to us," "speak slowly and calmly," "remember our difficulties are lifelong," "know our brains are different and sometimes we don't get it," and "never give up on us."
The UK FASD Manifesto is part of National FASD's "Me and My FASD" project that was originally funded as part of a partnership with Seashell by the DHSC. This project serves as a bridge to the "Rising 18+" project for which we are actively seeking funding. The Rising 18+ project will raise the voices of those with FASD on the needs of people with FASD as they transition into adulthood. A version of this post is available for children and young people with FASD at www.fasd.me.
National FASD is co-sponsoring today's FASD in the UK conference, alongside the University of Salford, where the conference is being held, FASD Greater Manchester, and NHS Greater Manchester. This year, the event is dedicated to celebrating the last 20 years of progress in FASD in the UK. Click here to learn more about the conference and see the agenda.
In the last two years alone, we saw the release of the DHSC FASD Health Needs Assessment, the NICE Quality Standard on FASD, followed by our own report, The Time is Now, which builds on these ground-breaking changes to help offer practical ways forward and is already in use up and down the UK.
As well as reflecting, the conference is designed to help us collectively inspire progress for FASD in the UK. Change is coming!
Make sure to stay tuned to our social media for updates throughout the day.
Update! Georgia briefed the Health Secretary Steve Barclay about the Manifesto!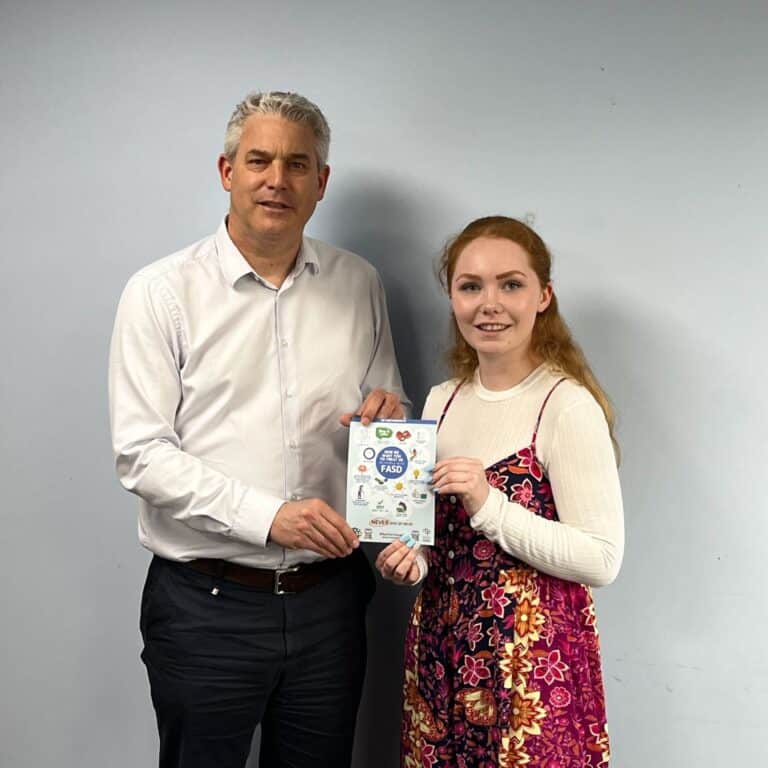 Georgia is a young adult with FASD. She met her MP and the Secretary of State for Health and Social Care, Steve Barclay, and presented him with copies of the UK FASD Manifesto.
She also talked to him about the challenges faced by people with FASD as they turn 18 and become adults.
Georgia said: "It was really good to spend 40 minutes talking to Steve Barclay about how FASD has affected me and what needs to be done […] to support people with FASD. He was very genuine and interested in what I had to say to him."